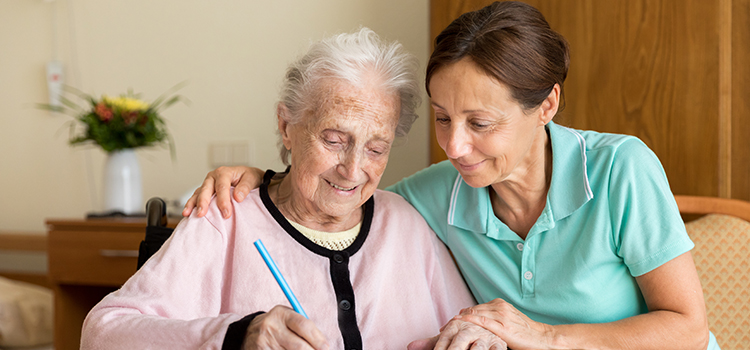 Occupational Therapy is goal-oriented therapy. It is structured to increase patient independence in those who have experienced a loss of ability caused by aging, illness, injury, developmental disability or stroke.
Is occupational therapy right for you or your loved one?
Our Occupational Therapy Team has the Skills to Empower Patients to Achieve Their Goals
Our occupational therapists provide skills for individuals to work toward returning to daily tasks of living with minimum discomfort and maximum productivity.
At Crouse Community Center, we understand how frustrating and challenging it can be to struggle with things that you or your loved one are used to doing easily. Don't give up; there is light at the end of the tunnel. The qualified and experienced occupational therapists at Crouse Community Center create a plan that's tailored for you or your loved one to build independence.
How Occupational Therapy Can Help
Our occupational therapists assist those in recovery from:
stroke,
arthritis,
hip fractures,
Multiple Sclerosis,
Parkinson's Disease
and other conditions
How Does Occupational Therapy Work?
We employ goal-directed techniques during evaluation and treatment. They provide therapeutic exercises, as well as adaptive techniques to ensure the highest quality of care.
Occupational Therapists are unique in their ability to creatively adapt the environment to meet the individual's needs.
Our Occupational Therapists provide patients with:
Tasks of daily living.
Custom made splints and positioning devices for proper alignment and body mechanics.
To Get Answers to Your Questions About Occupational Therapy, or to Get Started...