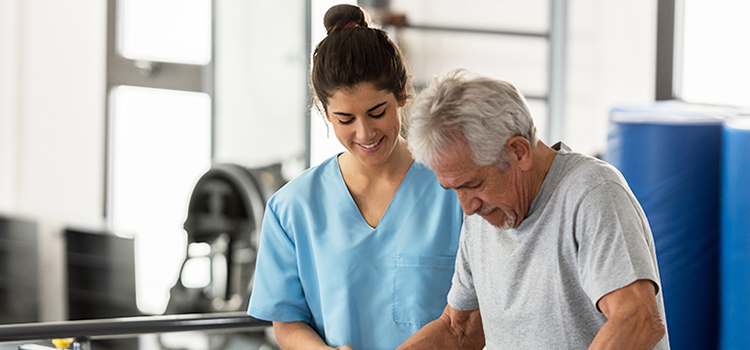 Crouse Community Center now has a full service Outpatient Rehabilitation Center that provides Madison County residents the ability to access:
All under the same roof, without having to travel to Syracuse or Utica!
Please call (315) 684-9595 for more information!
What is Outpatient Therapy?
Outpatient therapy offers the independence of staying at home and visiting Crouse Community Center for outpatient therapy appointments.
Outpatient Therapy from Trusted Medical Professionals
The outpatient therapy program at Crouse Community Center includes physical therapists, occupational therapists, speech therapists as well as a combination of these specialists. Our care coordination team develops personalized outpatient therapy plans for each patient. 
Download Our Outpatient Brochure
Outpatient Therapy Empowers Individuals with Certain Medical Conditions
The Crouse Community Center outpatient therapy team includes speech-language pathologists who can evaluate and treat a wide variety of medical conditions. This includes, but is not necessarily limited to:
Aphasia,
Decreased Cognitive Functioning,
Dysphagia (swallowing disorders)
In addition, Crouse Community Center's speech-language pathologists can provide treatment for voice related health concerns. This includes developing structured vocal hygiene programs to help patients with breath support and voice modification.
Could you or a loved one benefit from outpatient therapy from a speech-language pathologist?
Outpatient Therapy with Physical Therapists Also Help with the Following:
Recovery from broken bones or other injuries,
Pain Management,
Disease Management,
Degenerative Diseases,
Stroke Recovery,
Cardiac Rehabilitation,
Joint Replacements
Outpatient Therapy with Occupational Therapists Provide Goal-Oriented Therapy
Occupational therapy aims to increase independence for patients. Occupational therapists assist patients who have diminished abilities from aging, injury or developmental disabilities. 
Outpatient therapy with occupational therapists focuses on empowering individuals to return to daily life with minimal discomfort. 
In addition to helping patients rebuild capabilities for daily living tasks, occupational therapy is ideal for patients who experience any of the following:
Stroke,
Arthritis,
Hip fractures,
Multiple Sclerosis,
Parkinson's
Let's Talk About How Outpatient Therapy Can Benefit You or Your Loved One