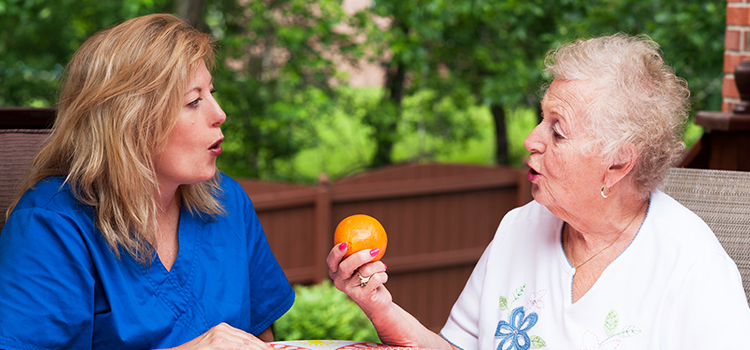 Speech-Language Pathologists are professionally trained to diagnose and treat communicative disorders. Our speech therapy teams take a holistic approach to therapy and are continually enhancing their skills through education on the most current treatment modalities. The speech therapists look at each aspect of communication to help the individual reach his or her maximum potential.
Is speech therapy right for you or your loved one?
Conditions That a Speech Therapist Can Help With
Our Speech-Language Pathologists provide evaluations and treatment for a variety of communication disorders including:
Aphasia - Following a stroke, many patients experience difficulty with communication. They may have difficulty with receptive language skills, such as the ability to comprehend and interpret verbal and written language.
Decreased Cognitive Functioning - Patients with mental retardation, brain injury or dementia can benefit from therapy designated to increase and maintain functional communication skills.
Dysphagia - Swallowing disorders may result from brain injuries, strokes and neurological disease processes.
Voice - Speech therapists develop structured vocal hygiene programs to assist patients with adequate breath support and voice modification.
Whether You're Looking to Get Answers to Your Questions About Speech Therapists, Or You're Ready to Get Started...